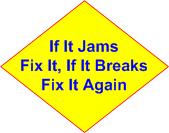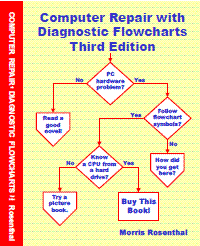 Copyright 2011 by Morris Rosenthal
All Rights Reserved
Guide to Computer Troubleshooting and Repair - PC Troubleshooting Manual
When I started working on PCs back in the mid-80's, there were thirty-six individual memory chips to be inserted in motherboard sockets. Today's computers don't have half that many individual parts! But the basic tool for troubleshooting PC problems remains unchanged - it's your brain. Swapping parts without thinking about it may work in production environments where there are endless supplies of spare parts lying around, but if you're trying to troubleshoot your home computer or out on a field service job, you won't have that luxury. The majority of computer problems turn out to be software issues, especially malicious software. But intermittent hardware failures can baffle the best technicians, and the only way to work around them is to adopt a systematic approach to troubleshooting rather than shooting from the hip. The approach I teach through my websites and books is to a process of elimination that narrows down the possibilities until the failure can be identified. When you master the basic troubleshooting technique, you'll be able to apply the lesson to technologies and situations not covered here. The flowchart videos below are excerpted from my book "Computer Repair with Diagnostic Flowcharts" , now in its Third Edition, which is used by home hobbyists as well as for a course text in technical colleges and a field guide for technicians.
Power Supply Troubleshooting

The first step in troubleshooting any PC problem is to confirm that the power supply is functioning properly. And don't be the Hasty Harry who rushes to replace the power supply when the true failure is a bad AC outlet in the wall or the power strip. Power supply regulation can degrade on the path to failure, rather than going "pop" all at once. Both the cheap PC's sold in stores and the cheap "case plus power supply" deals on the web are equipped with power supplies that are barely sufficient for the job. The main culprit for intermittent problems that aren't related to software or the Internet is the ATX power supply.

Video Failure Troubleshooting

While there are a large variety of video problems that may need troubleshooting at one time or another, when we talk about outright failure, that usually means nothing appearing on the screen. It's easy enough to diagnose the problem if the monitor, whether an LCD or an old CRT, isn't powering up, but most other issues can be due to either the monitor, the video adapter in the PC, the power supply or the motherboard. Modern video cards run so hot and require so much power that failure is often due to overheating. It's not uncommon for older video cards without latches to simply to pop out of the bus slot.

On the Foner Books website, it's easy enough to navigate from the decision points to the expanded troubleshooting text, but for the book, I had to devise a navigational system. So for each step in the troubleshooting process, the text is indexed with the decision symbol for that point in the margin. This allows you to quickly locate the instructions or explanations relevant to your particular problem without having to read through a lot of text that may be entirely unrelated to the hardware failure at hand. And by breaking all of the diagnostic steps down one-by-one, it helps teach you the logical method for troubleshooting PC problems that you can follow for hardware issues you encounter later with any technology.
Motherboard and CPU Troubleshooting

Motherboard problems are catastrophic but rarely obvious unless you open the case and see a big burn mark of the motherboard. Troubleshooting motherboard failures often requires a bit of parts swapping, though any compatible part will do (ie, you don't need to replace your high-end video card another high performance adapter just to see if the motherboard is still functioning. To avoid excessive parts swapping, it's important to carefully observe the powered up system for motherboard LEDs, signs of life like the CPU and case fans, or RAM that never gets warm to the touch. On a dead motherboard, you may be able to detect a blown component like a resistor or capacitor by visual observation, often aided by smell.

Hard Drive Failure Troubleshooting

Not all boot issues are related to hard drive failure, in fact, the majority are due to the operating system. Of the four important PC subsystems represented in miniature here, hard drives are usually the most reliable, with a mean time between failures far exceeding the practical life of any PC. It's not that RAM or CPU's are low quality, in fact, they may last appreciably longer than hard drives under proper conditions. It's that when a technician is called in to repair a PC that hasn't been dropped from a desk, hard drive failure is much less likely than power supply or video adapter failure and a variety of power surge type damage. Hard drive troubleshooting is also pretty straight forward as long as you're systematic about it.
Guide to Computer Troubleshooting | If It Jams Home | Contact